This Saturday I got a table out of my garage and stacked dozens of things on it that I no longer needed or wanted. There were boxes of old baby toys, a wooden crib, an old dehumidifier, a tv/dvd player combo, a chair, lots of office supplies, some old tools, a mop and various painting gear, some leather boots. Initially, my plan was to sell it, but then my son (who is 12) suggested I put it out for free. I thought that was a good idea because this was stuff I didn't want, so why should I charge someone money for it? So I made up a couple big FREE signs, and put an ad in the free section of Craigslist. People began to drop by and sort through the gear almost immediately.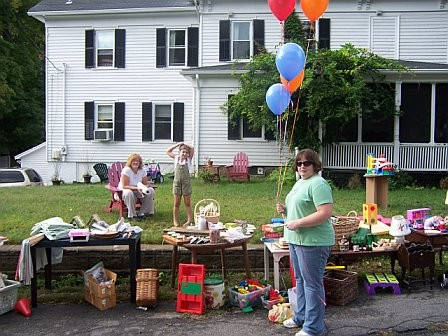 Little did I know it (until later that morning) that a neighbor down the street had a little yard sale going at the same time. He had also laid out his pitiful collection of junk he didn't want or need, but instead of offering it for free, put little price tags on each of his things. I stopped to look because there was a chair that I liked. He was asking $15 for the chair and I politely declined.
At the end of the day, my pile of free stuff was a mess. People had sorted through it and tossed things around. My FREE signs were missing, the table was ajar, one boot was on the lawn and the other in the gutter...people had had no respect for what I was doing. But down the street, my neighbor's pile was almost gone, and the rest was orderly and neatly displayed on his lawn.
My son suggested that the reason people had been so disrespectful of my FREE pile was that it was free, that obviously I didn't care about the stuff, so why should they? Insightful child.
Next time I will put price tags on everything.